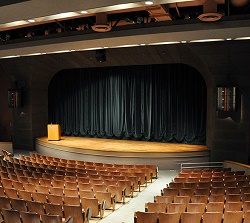 Canton, Massachusetts-based Communications Design Associates (CDA) recently designed a new sound reinforcement system for the Tsai Performance Center at Boston University.
"When the original system was installed in the early 90s, the room was primarily used for lectures, not performance,"  says Joe Patten, Associate Designer for CDA. "As the space has evolved, it was clear they needed a system that could accommodate a variety of performances in addition to regular lectures."
To read more about the installation, click here.