Communication Design Associates regularly incorporates  Building Information Modeling (BIM) into its audiovisual and space design practice to enhance conceptualization, visualization and design authenticity.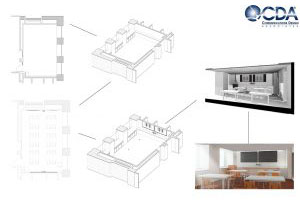 But what is BIM?
BIM is the process of modeling a digital three-dimensional representation of a built environment. This technology sets CDA apart from the limitations of other design firms that can only offer two-dimensional AutoCAD drawings. BIM lets CDA embolden its clients through tools that show an accurate, conceptual perspective of what various AV technologies will look and feel like in their space – ahead of time. With BIM we can also offer clients superbly high quality renderings that can be extremely effective as part of a feasibility study and presentation.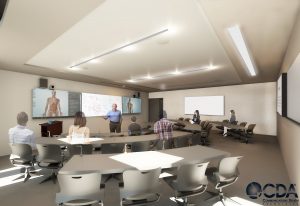 BIM is an interactive, fluid tool; if a model element is changed on the project, BIM coordinates that change throughout the entire drawing set, including those specific to other trades also working on the project. And BIM files serve more than just as a visual aid: They are models embedded with supplementary specification data. This allows for the electrical team to identify power requirements, or inform the HVAC contractor to pick-up additional heat loads in an AV closet so that adequate thermal cooling is provided. BIM really transforms the collaboration process entirely so everyone can extract the information they need to produce an all-around unified design front.
BIM will also recognize potential collisions – for example, a piece of HVAC equipment that conflicts with the placement of a recessed ceiling speaker. Such a situation will be flagged and the respective design parties can work to resolve the conflict before construction even begins.
With over 70% of architectural firms today collaborating on the Autodesk Revit platform, having an AV consultant partner like CDA working in parallel with your team creates a cohesive, powerful overall design approach. We'd love to show you how CDA's BIM expertise can enhance your space visualization, and take technology integration and facility design to a whole new level. Contact CDA for a free BIM demonstration and help on your next project.